Preview a Scenario
Although you can run through the dialog with the built in ChatMapper Simulator, Scenario relies on LearnBrite VR services online, so you will not see how the finished Scenario will look without publishing to app.learnbrite.com.
Publish the Scenario
Click the File > Export > json in ChatMapper. Save the json to a location you will remember. Open a web browser, visit Admin Dashboard and Login with your UniversalAvatar account.
Understanding Spaces & Scenarios
A Scenario is the definition of an experience created in ChatMapper.
A Space is the customized 3D location the Scenario will be played in.
To play a scenario you will always be visiting a Space which contains the Scenario.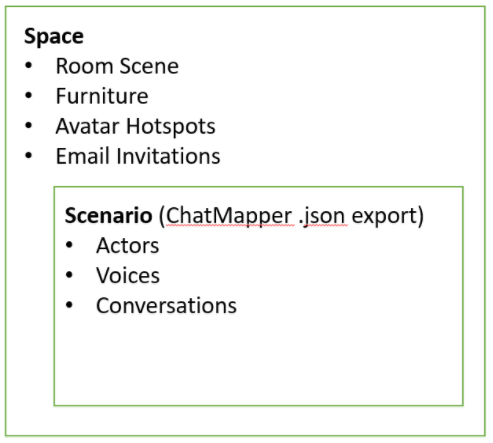 Create a New Scenario and Upload Scenario .json
Click [Scenarios] in the top menu
Choose a name for your Scenario
Click [Choose File] Find the JSON export file you created with ChatMapper earlier
Select the json and click [Open] Click [Save]
Create a New Space
Scenarios must be associated with a Space in order to be experienced.
Click [Spaces] in the top right menu
Click [+] Create Space button
Do not change the Code.
Choose a Name and write an optional Description
Choose a Scenario from the drop down list (in this case Office Politics Scenario)
Leave "Virtual Meeting Room" [un-checked] Click [Save]
Visit the Space
Click the image or the space title to visit the Space and play the Scenario.
Send an Email Invite to the Space
Click the triple dot menu on the right hand side of the space tile, choose Invites menu option
Enter a Name, Email and choose the Gender (Gender is only a hint when the Avatar creator is shown for the user, they can still choose between Male and Female in the avatar creator)
Click [Send]
Visit a Space – User Experience
The user will receive an invite in their email inbox from LearnBrite Events that looks like this
The user clicks [Visit Now] and they are taken straight into the Office Politics Game Space.
What's Next?
Learn about Bot Authoring
Learn about Space Editing
Awesome! Where can I try this?
Spaces and Scenarios are available in VR Scenario.
I still have questions!
No problem, LearnBrite Support is here to answer those questions! You can reach Support from the Contact page.